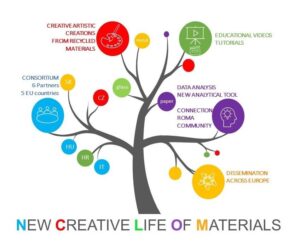 In cooperation with FunGlass and 5 other partners from Europe – Italy, Croatia, Hungary, Czech Republic, and Slovakia, we submitted a project New Creative Life of Materials with value EUR almost 820 thousand. It was submitted through a cross sectoral call directly under the European Commission within the Creative Europe program – Innovation Lab.
Keep your fingers crossed for a positive evaluation from the evaluators in January 2023.
#fablabtnuni #fablab #FunGlass #tnuni #tnuad #trencin #slovakia #kreativnecentrum #creativity #lab #trencinregion #CREA2022 #INNOVLAB #ProjectGrants #project #italy #tecnopolispst #sekunde #croatia #proprogressione #hungary #makemore #makerfaire #rtvs #bratislava #zagreb #budapest #praha #bari
About project
The idea of the New Creative Life of Material Project (NCLoM) is the cross-sector cooperation of the Creative and artistic sector with the Audio-visual sector with an emphasis on the use of recycled and waste materials in creative artistic work with the subsequent creation of proven procedures and processing methodologies and the innovative combination of such materials into the final design of products at the level of prototypes.
The creation process will be documented through the produced video content transformed into digital educational materials that will be created as part of the project. Subsequently, they will be distributed online to the community of artists, creatives, the participating public, and entities from the creative industry. The appropriateness of the chosen scope, content and format of video educational and motivational materials will be verified through innovative data analysis tools. The analysis results will be used to optimize the created digital educational materials to ensure the best understanding and accessibility for the mentioned community.
The implementation is planned through 5 activities:
Project management (2 outputs: Guidelines, Progress report),
Artistic and material design of creative products and prototyping (2 outputs: Call for artists and creators, Prototypes),
Educational videos / tutorials – making story (4 outputs: Teasers, Shorts videos, Tutorials, Movies),
Data collection, analysis, and social engagement (3 outputs: Communication Tools and Channels Launch, NCLoM Analytical Tool, Written Interpretive Evaluation),
Dissemination (4 outputs: Dissemination/Communication Plan, Digital Content, Educational videos and multimedia tools, Story of NCLoM).
Number of direct recipients of services from the project is 135, number of indirect recipients by a qualified estimate is 126 thousand.
Project Partners

RTVS
is national Slovak broadcaster. Registered in 2011, after acquisition of separate Slovenský rozhlas (Slovak radio) and Slovenská televízia (Slovak television). It is public, national, informational, cultural and educational institution that provides services to the public in the field of radio and television. RTVS is employing 1500 professionals working in radio and TV sector.
www.rtvs.sk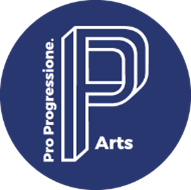 Pro Progressione (PP)
is a Budapest-based artistic hub that connects people, professions, and ambitions by designing international collaborations in the field of culture. From this combination, creative ideas emerge – artists, cultural activists, scientists, and experts of various fields meet and give cutting-edge answers for the questions of our age. We focus our capacities on the fields where we aim to have a positive long-term impact, thus PP is built up on six main pillars, PP Social, PP Cult, PP Arts, PP Green, PP Plus and PP Sound. We are active in the field of socially engaged arts, cultural & natural heritage interpretation, music as tradition and the productions of unique performances. Our innovative team consists of 10 full-time employee, and we also have a traineeship programme for emerging cultural managers. Our team disposes of a large scale of professional competences and creativity, each of our members are personally engaged with arts and culture.
https://proprogressione.com/

Sekunde
is a storytelling agency, SME located in Zagreb, Croatia focused on providing innovative digital and video solutions to improve the brands, projects and ideas visibility and impact in digital environment. The interdisciplinary team consists of graphic designers, developers, audio and video specialists and marketing professionals that deliver award-winning projects. We use available technology to measure impact and results on different mediums and platforms. Company case studies show that data-based approach results in major increases of visibility and performance, implemented in every project we are working on.
www.sekunde.hr

Tecnopolis PST
is a public company fully owned by the University of Bari in Italy, created in 2009 for the management of the homonymous Science and Technology Park, located in Valenzano, 12km far from Bari in Puglia Region. http://www.tecnopolispst.it /

Make More
is the partner from Czech Republic and a StarUp company developing the maker community in whole Czech regions and help to foster the makerspace infrastructure. Make more organize events connecting arts, technology, and science. Create educational content based on hands-on STEAM principles.
www.makemore.cz
Associated partners
Marius Pedersen, Inc. the largest private Danish company in the field of waste management established in Slovakia as a professional company providing services in the field of waste management, road maintenance and greenery care.
REC Group is a holding company consists of companies that deal with the processing of various types of waste (metal and dangerous waste, tires, plastics, wood, paper, glass, electrical appliances, etc.) and an unusual place offering entertainment, inspiration and environmental education – KOVOZOO (METAL ZOO).
FabLab´s – 3 in Czech Republic and 2 in Slovakia.
RONA The glassworks in Lednicke Rovne is one of the world leaders in the processing of lead-free beverage glass known as crystalline. Rona has a strong export position, qualified personnel, and the most modern technologies.
Fondazione carnevale di Putignano, MFF Piešťany o.z., Pohoda Festival sro, Utca-SzAK artist community, InDaHouse and Zagreb Tourist Bord will help us to organise our Project presentation events where the created artistic and creative utility products made by wasting material will be presented for a wider public and to relevant stakeholders (see Events and trainings table).